Winners from the 11th annual editorial competition
Now in its 11th year, Canada's Best Diversity Employers recognizes employers across Canada that have exceptional workplace diversity and inclusiveness programs.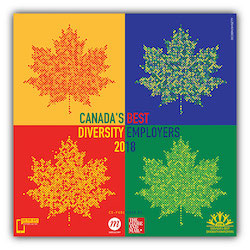 This competition recognizes successful diversity initiatives in a variety of areas, including programs for employees from five groups: (a) Women; (b) Members of visible minorities; (c) Persons with disabilities; (d) Aboriginal peoples; and (e) Lesbian, Gay, Bisexual and Transgendered/Transsexual (LGBT) peoples.
For the list of winners and more details, click or swipe here.